Add convenience to your office with the Mobility Series from VTech. Move to and from your desk whenever you want—without needing to disconnect a call. Do just about everything on a cordless handset you can do on a deskset—hold, transfer, conference and even intercom between other handsets.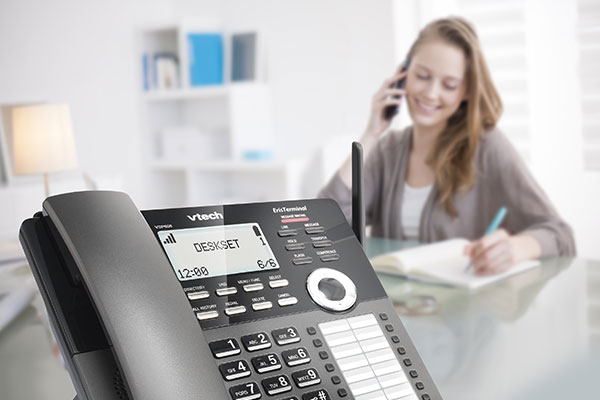 ErisTerminal VSP600 Series
This cordless family is perfect for those places you want the function of a deskset with the convenience of a cordless handset, or don't have an Ethernet drop where a phone is needed. DECT 6.0 technology enables you to make and receive calls from virtually anywhere in the office, and gives you up to 500 feet of range. With a touch of a button, connect a cordless deskset or handset to your DECT base station.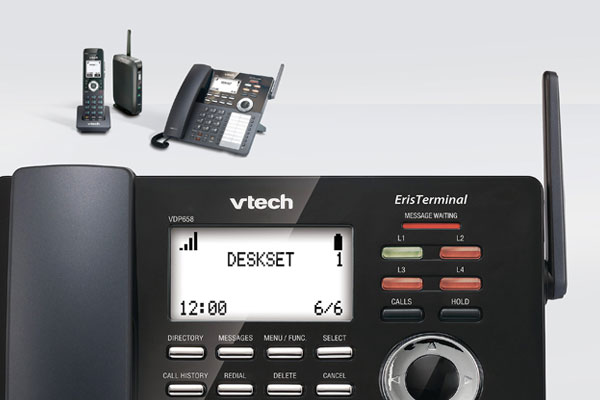 ErisTerminal VDP650 Cordless 4-Line Series
Answering and transferring calls is easy with the VDP650 Cordless 4-Line Series. The cordless deskset and handset feature four programmable LED backlit line keys for improved call handling, making it easy to see incoming calls, hold calls, and resume calls from any handset or deskset with a simple press of a button. DECT 6.0 technology allows people to work and travel throughout the office with up to 500 feet of range.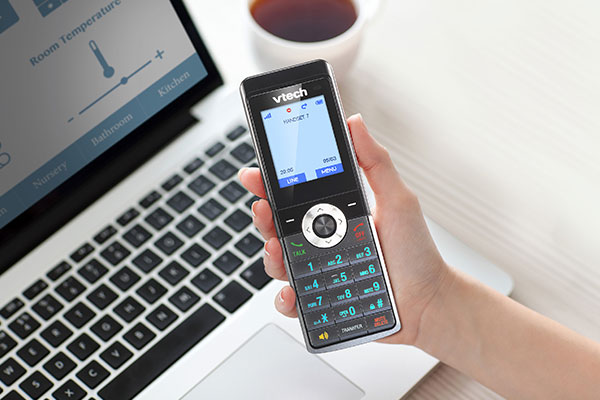 ErisTerminal VDP800 Cordless Series
The VDP800 Series is ideal for small businesses looking for SIP communications, HD audio and a color screen—all on a cordless handset. Because of DECT 6.0 technology, employees can move freely around the office while staying connected on their handsets. A color screen on the VDP801 handset makes it visually simple to place and answer calls. If you ever need more coverage in remote areas, add up to five DECT repeaters to the base station.
State-of-the art features for mobile workplaces
Enjoy scalability, advanced call handling and repeater support
Clear mobility with Orbitlink Wireless Technology
Leave your desk without leaving your work behind. Enjoy DECT 6.0 sound quality and reception.
Flexibility
With support for up to six SIP lines/accounts (VSP600 Series) or eight SIP lines/accounts (VDP650 and VDP800 Series), you can manage multiple calls with advanced call handling features.
Scalability
Growing pains? Register up to six cordless phones (VSP600 Series) or 10 cordless phones (VDP650 and VDP800 Series) to the DECT cordless base station and program each one with its own phone number or extension.
Repeater support
Increase range in multiple directions by pairing up to five VSP605 repeaters per phone.
Advanced call handling
Impress customers with comprehensive call handling features that are compatible with hosted and open-source PBX platforms.*
Convenient mounting
Make the most of tight spaces. The DECT cordless base station can be free standing or wall-mounted.
Learn about the ErisTerminal® Mobility Series family of products
Learn about the ErisTerminal® Mobility Series
Connect with us to find out if these phones are right for your business.
Snom is a registered trademark owned by Snom Technology GmbH.